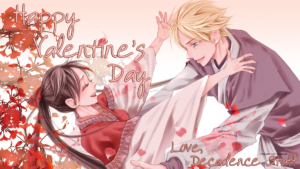 Hello everyone! Happy Valentine's day! Hope you all get lots of attention for your significant other. Of course we all know that February 15th is the real holiday. That's right!! Half priced chocolate day!
Anyways, this week we bring you quite the treat! We bring you the last chapter of Geten no Hana and two extras from it. This ends GnH and it ended too soon in my opinion. However, we are picking up another game-based manga that takes place in about the same Era. So be sure to look out for it in the future!!!
Finally, we have a chapter of Cosplay Deka and Joou no Hana. Joou no Hana is a joint with Phoenix Serenade so be sure to stop by their website and tell them 'Thanks!" for their hardwork.
Geten no Hana v03 Ch14
Geten no Hana Extra 1
Geten no Hana Extra 2
Read Online || Download
Joou no Hana v06 ch16A
Cosplay Deka v06 ch19